Lloyd C. Reid Jr.
2004 Maserati Cambiocorsa Spyder
Rosso Mondiale (Modena Red)
390HP - 4.2 Liter - V8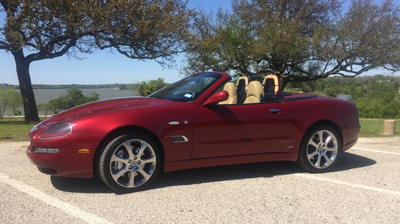 Pre Purchase History

I spent my college years infatuated with British sports and had a couple of MGBs and Triumph TR6s. I particularly liked my TR6 during my stint in LA as the mountains and curves really allowed you to put the Triumph through the paces. With a very pleasant climate, sunny days, and the top down with the wind blowing in your hair it all combined to create a memorable time. Fast forward through life and work and I had made myself a promise when I could, I would get my dream car – which to a British car enthusiast was the Jaguar E-Type. Well, as I reached my "middle age" crazy years, I was practical enough to remember my Lucas electrical problems with my Bs and TR6s and realized the E-Type wasn't very reliable in the late 60's & early 70's and would not be a prudent choice for a weekend car in 2004. So, I looked at the Jaguar XKR but by 2004, it was a bit dated – no hide-away top compartment when down – just a tonneau cover. I then discovered the Maserati 4200, which had just returned to the US after a lengthy absence. One test ride later with the throaty response emanating from the exhausts and incredible performance from the 4.2 Liter V8 engine coupled with the Cambiocorsa paddle shifter, particularly in Sport mode and I was sold.

Purchase

Purchased it from Park Place at its old Lemmon Ave location, called my insurance company and bank and had the funds wired and ID cards issued. Played a round of golf and picked it up that afternoon.

Repair, Maintenance, & Modifications

The car has been remarkably reliable and other than scheduled maintenance have no unusual costs associated with mechanical repair. I have "flat-spotted" 3 sets of tires by having it sit up for long periods of time without moving it - but that's on me because of work and having two other cars used as my daily drivers! I primarily drive the Spyder in the fall and spring on day trips in & around the N Texas area. Now have it stored at garage with trickle charger and this arrangement suits me fine! Only has 22,000 miles on it as of Jan 2020!

End Result

Love it, incredible power and torque and quite frankly, it's beyond my capability to drive it to its limit. I love the idea of possible track days as a new member of the ICCNTX. With so few miles and always garaged I get asked all the time, "what is it" and people are blown away when I tell them it's a 2004 model. In showroom condition and it's a beauty.